EMAS technologies further reduce cost of self-supply
The month of September has been a busy month at the SMART Centre in Malawi. For a period of three weeks Henk Holtslag (on behalf of the SMART Centre Group) and Wolfgang Buchner (on behalf of EMAS International) visited to facilitate the Short Course on 'WASH Technologies for Self-supply'.
EMAS, the CCAP SMART Centre and the SMART Centre Group organised a training in water technologies that are affordable for families and so fit for Self-supply and a group of 15 technicians from Malawi, Zambia, Tanzania and Kenya joined for the trainings.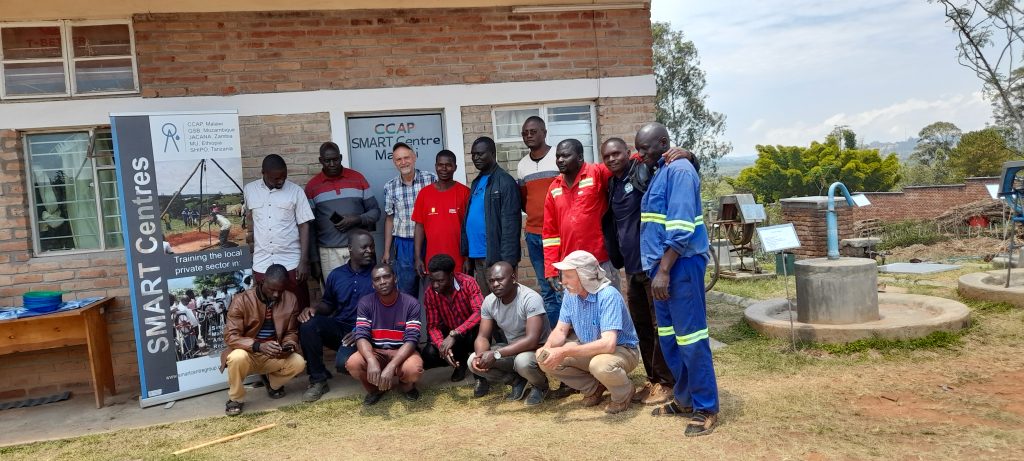 The first week of the training focussed on introducing the EMAS technologies through a hands on training, including the construction of a drill set and 2 EMAS pump models. Also the EMAS underground tank and the wash basis with 80 litre storage tank were constructed. Wells drilled with the EMAS drill cost 10-12US$/ metre so a well of 20 m deep would cost ca 220US$ including a hand pump
During the second week the updated Mzuzu Drilling was shown and Mr. Phiri of the Zambia SMART Centre introduced the VES technology, as an additional option for site selection, increasing the rate of successful wells. The trainings finalized with an Open Day on 29th September, during which the newly trained EMAS Technologies were shown, together with the existing SMARTechs at the DemoGround.
A short report of the training can be downloaded here. The document also includes a brief overview of the SMARTechs. For more impressions of the training, check the pictures and the short clip below