Training the local private sector in
Simple, Market based, Affordable, and Repairable Technologies
---
The SMART Centre Group
Currently there are 4 running SMART Centres (Tanzania, Malawi, Mozambique and Zambia) and 1 SMART Centre in establishment (Ethiopia). Within the SMART Centre group, the Centres exchange knowledge and experiences and create leverage. They are coordinated by MetaMeta and supported by NGOs including Aqua for All and the SKAT Foundation.
To become a member of the SMART Centre Group, conditions apply;
Quality in technologies
Most SMARTechs are simple but a hard lesson learned is; "Simple is not easy". Details are important. Products disseminated via a SMART Centre need to be technically sound and approved by the SMART Centre Group.
Quality in training and management
Manuals for and trainers in production, installation etc. should be of good quality. Good management is essential and a SMART Centre should generate income and become self sustaining.
Cooperation
A SMART Centre cooperates with a local partner in each country, agrees with the vision and mission of the SMART Centre Group and cooperates with the other members.
SMART WaSH Solutions in times of Corona from TheWaterChannel on Vimeo.
Highlights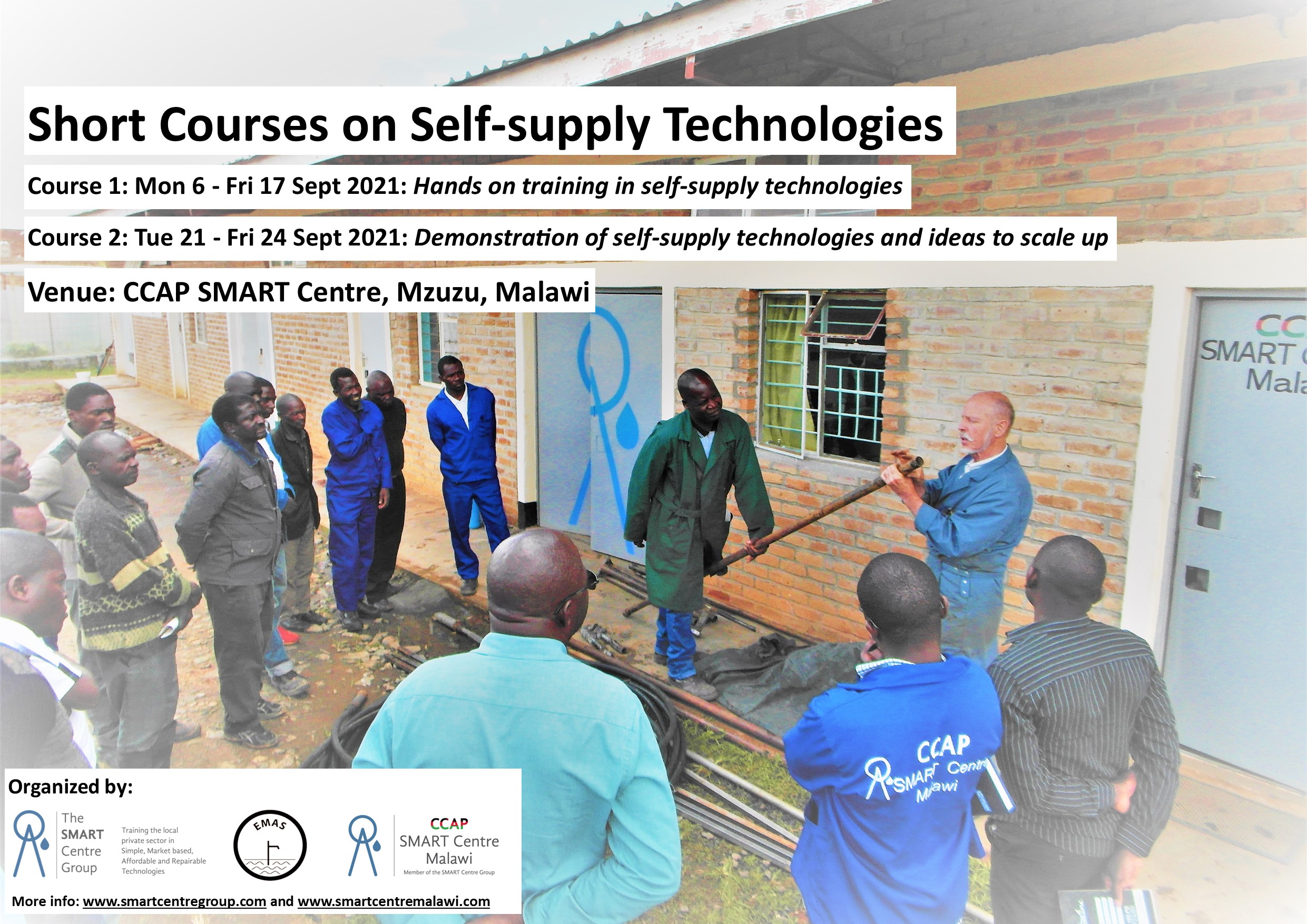 Successful Short Course @ CCAP SMART Centre, Malawi
EMAS technologies further reduce cost of self-supply
The month of September has been a busy month at the SMART Centre in Malawi. For a period of three weeks Henk Holtslag (on behalf of the SMART Centre Group) and Wolfgang Buchner (on behalf of EMAS International) visited to facilitate the Short Course on 'WASH Technologies for Self-supply'.
EMAS, the CCAP SMART Centre and the SMART Centre Group organised a training in water technologies that are affordable for families and so fit for Self-supply and a group of 15 technicians from Malawi, Zambia, Tanzania and Kenya joined for the trainings.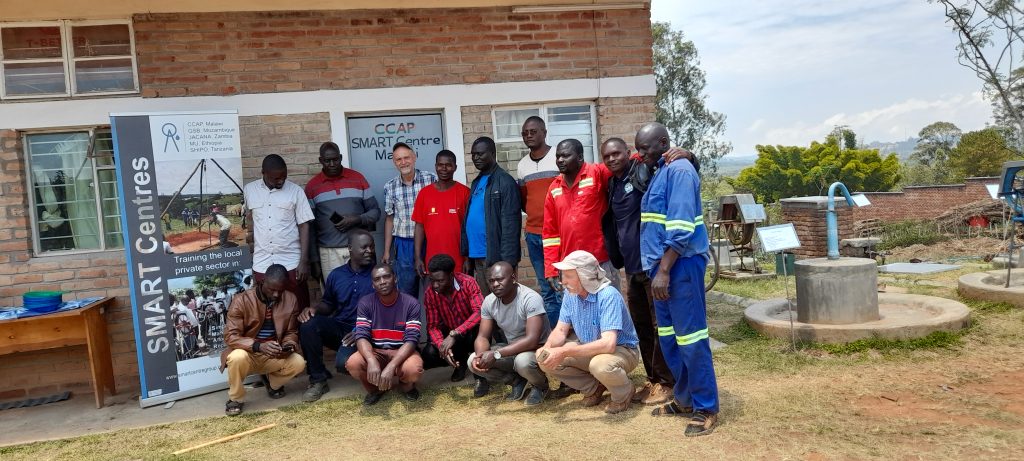 read more
Short courses on Self-supply Technologies @ CCAP SMART Centre, Malawi
The recently published book "Self-Supply" indicates that over 1 billion people world-wide have Self-supply so water supply for which they paid themselves. Some 80% of all self-supply systems are wells. It is clear that scaling self-supply has a huge potential to help in reaching Sustainable Development Goals for water, poverty and food.
The CCAP SMART Centre Malawi, in collaboration with EMAS International and the SMART Centre Group, is organizing two short courses on low-cost Water and Sanitation Technologies with a focus on Self-supply.
Course 1 will take place from Monday 6 - 17 September 2021 and will focus on Hands on training in self-supply technologies targetting Well drillers, welders, masons, technicians, entrepreneurs, others interested in practical technologies.
Course 2 will take place from Tuesday 21 - 24 September 2021 and will focus on Demonstration of self-supply technologies and ideas to scale up targetting WASH program officers of NGOs and governments and those with general interest in approaches that can help to reach SDG6 and water related goals like poverty, food security and employment.
For more info and registration check the flyer and contact us through jamemhango@gmail.com or henkholtslag49@gmail.com.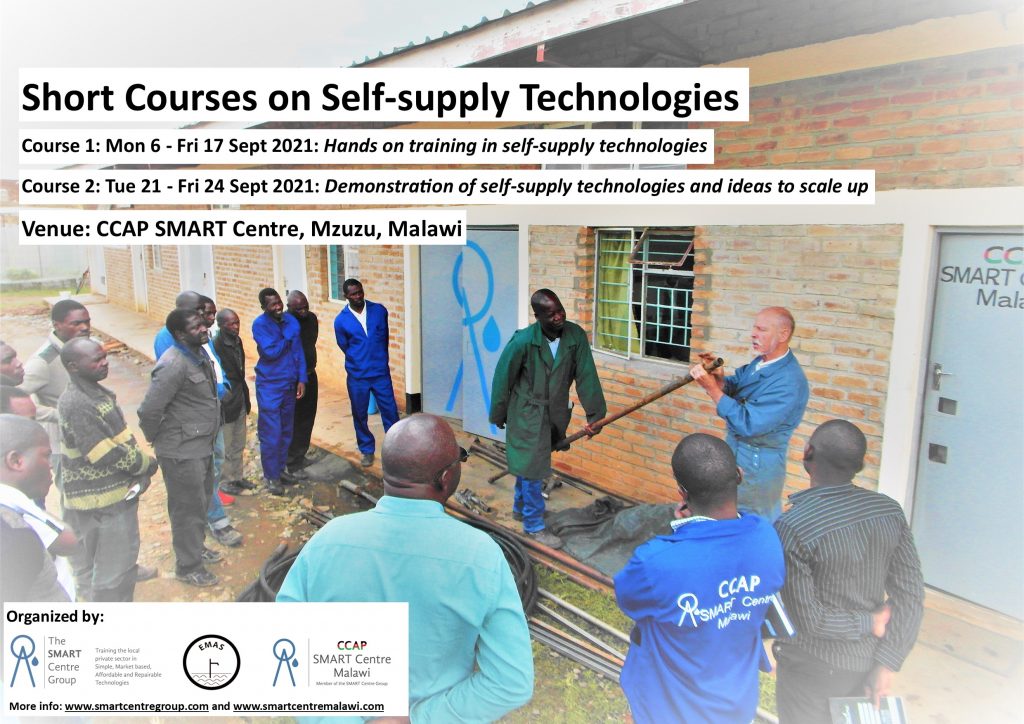 Book on Self-supply: 'Filling the gaps in public water supply provision'
One of the approaches promoted by the SMART Centres is supporting self-supply, so stimulating people to invest in their own water system like a well and pump.
There is now the first ever book on Self-supply Filling the gaps in public water supply provision has been published by Dr. Sally Sutton and John Butterworth. By RWSN it has been called THE book and on the first day of publication, the book was downloaded more than 500 times already.
In the book several SMART Centres and the people involved like Rik Haanen, Walter Mgina, Reinier Veldman and Henk Holtslag are mentioned.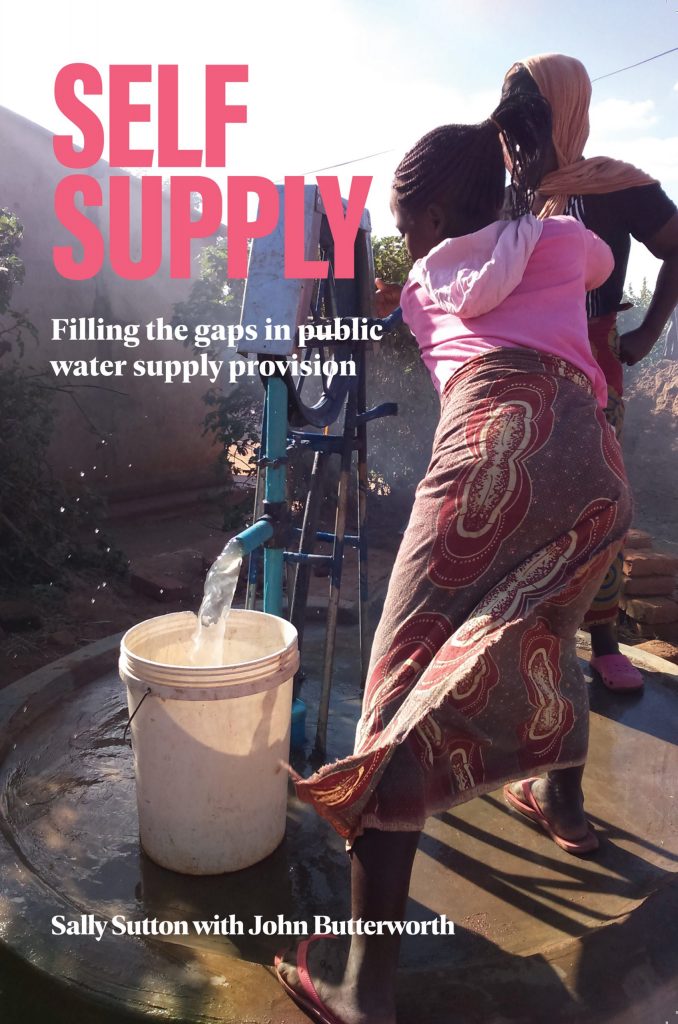 Self supply is increasingly seen as one of the options to reach SDG6.1 and related SDGs for food, income and employment. We highly recommend that you download and read the book. You can get your copy through Practical Action. The electronic version is for free and there are paid soft and hard-cover versions availble.
'Self-supply has long been overlooked because it is largely unmapped, unmonitored and unregulated, and therefore invisible to policy-makers and decision-takers. This wonderful new book shows what they are missing by providing an accessible but comprehensive overview of self-supply in its many forms and contexts, from the lowest income countries to the highest. It puts people at the centre of the challenge to achieve universal water access and is a celebration of ingenuity and resilience – and highlights that household investment and remittances can play a vital role in plugging the investment gap in rural water infrastructure. This book is destined to become a classic reference that all rural water supply professionals should become familiar with.'

Sean Furey, Director, Rural Water Supply Network (RWSN)
Interested to support or join?
Home