Training the local private sector in
Simple, Market based, Affordable, and Repairable Technologies
---
The SMART Centre Group
Currently there are 4 SMART Centres (Tanzania, Malawi, Mozambique and Zambia). The Centres exchange experiences and create leverage. They are coordinated by MetaMeta and supported by NGOs including Aqua for All.
To become a member of the SMART Centre Group, conditions apply;
Quality in technologies
Most SMARTechs are simple but a hard lesson learned is; "Simple is not easy". Details are important. Products disseminated via a SMART Centre need to be technically sound and approved by the SMART Centre Group.
Quality in training and management
Manuals for and trainers in production, installation etc. should be of good quality. Good management is essential and a SMART Centre should generate income and become self sustaining.
Cooperation
A SMART Centre cooperates with a local partner in each country, agrees with the vision and mission of the SMART Centre Group and cooperates with the other members.
Highlights
SMART Centres at WEDC

SMART Centres present at WEDC Let's talk at the exhibition site SMART Centre Group. Visit the sessions on Self-supply:
"Supported self-supply as a key to reach water, food and poverty SDGs" by Henk Holtslag
"How can Self-supply help reaching SDG6?" by Rik Haanen
Tuesday 25 July – afternoon 15.30 – 17.00 Loughborough University UK, Session C5: Room WPT003.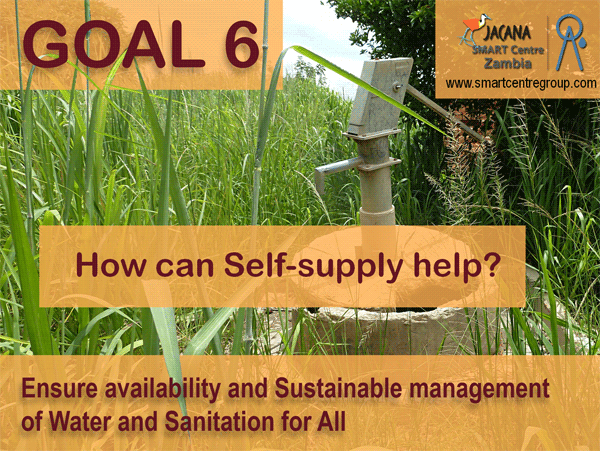 SMART Centres at the Innovate for Water Event, Geneva
On behalf of the SMART Centre Group, Jasmina van Driel attends the Innovate for Water event (June 2017). This is a matchmaking forum focusing on water, sanitation, entrepreneurship and sustainable investment. Day 1 was specifically geared to connecting entrepreneurs or entrepreneurial initiatives with (social impact) investors. Day 2 is an open forum, which provides an opportunity for meaningful interactions around Technologies, Business and Human Rights among water experts, impact investors, social entrepreneurs, multinational corporations, NGOs and UN agencies. On both days the SMART Centre approach will be pitched by Jasmina.
Interested to support or join?
Home