Training the local private sector in
Simple, Market based, Affordable, and Repairable Technologies
---
The SMART Centre Group
Currently there are 4 running SMART Centres (Tanzania, Malawi, Mozambique and Zambia) and 1 SMART Centre in establishment (Ethiopia). Within the SMART Centre group, the Centres exchange knowledge and experiences and create leverage. They are coordinated by MetaMeta and supported by NGOs including Aqua for All and the SKAT Foundation.
To become a member of the SMART Centre Group, conditions apply;
Quality in technologies
Most SMARTechs are simple but a hard lesson learned is; "Simple is not easy". Details are important. Products disseminated via a SMART Centre need to be technically sound and approved by the SMART Centre Group.
Quality in training and management
Manuals for and trainers in production, installation etc. should be of good quality. Good management is essential and a SMART Centre should generate income and become self sustaining.
Cooperation
A SMART Centre cooperates with a local partner in each country, agrees with the vision and mission of the SMART Centre Group and cooperates with the other members.
Highlights
Unique opportunity for initiators and entrepreneurial personalities!
International Course "Market-led SMARTechs for water and agriculture" in Mzuzu, Malawi from the 19th to the 23rd of March 2018. Apply now!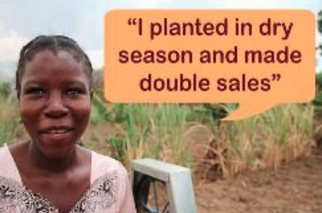 The SMART Centre Group and SNV are organising a course to provide policy makers and practitioners in water and agricultural management with a holistic set of knowledge and skills to take water and agricultural initiatives to the next level. Participants of the course become true agents of change and accelerate reaching several SDGs simultaneously. Click here to download the course flyer and read how to apply.
Training in manual drilling and hand pumps in Malawi
January 17, 2018. Starting from today, the CCAP SMART Centre in Mzuzu is organising a training on the 'Mzuzu drill technology for a group entrepreneurs and technicians. This technology is suitable for wells of 10 to 20 meters deep for small communities as well as for Self-supply. Average costs range from 200 to 500 USD, including PVC casing and a handpump. The training also covers constructing various hand pumps and solutions for water harvesting and sanitation​. All technologies are fully made with locally available materials. More information www.smartcentremalawi.com or www.smartcentrezambia.com.
Interested to support or join?
Home