Training the local private sector in
Simple, Market based, Affordable, and Repairable Technologies
---
The SMART Centre Group
Currently there are 4 SMART Centres (Tanzania, Malawi, Mozambique and Zambia). The Centres exchange experiences and create leverage. They are coordinated by MetaMeta and supported by NGOs including Aqua for All.
To become a member of the SMART Centre Group, conditions apply;
Quality in technologies
Most SMARTechs are simple but a hard lesson learned is; "Simple is not easy". Details are important. Products disseminated via a SMART Centre need to be technically sound and approved by the SMART Centre Group.
Quality in training and management
Manuals for and trainers in production, installation etc. should be of good quality. Good management is essential and a SMART Centre should generate income and become self sustaining.
Cooperation
A SMART Centre cooperates with a local partner in each country, agrees with the vision and mission of the SMART Centre Group and cooperates with the other members.
Highlights
SMART Centres well represented at the 7th RWSN Forum
At the last RWSN forum in Abidjan, which is organised once every 5 years, the SMART Centre Group had a stand in which several SMARTechs were demonstrated and information about the SMART Centre Approach and the Group was provided. Several SMART Centres also presented papers and posters, listed below: Papers SHIPO and Mzuzu drilling, 2 new low cost options for manual drilling of tube wells by Henk Holtslag (SMART Centre Group). More information on http://www.smartcentremalawi.com/. The SMART Centre approach; training the private sector and scaling-up Self-supply through a sustainable business model by Morten Holm van Donk (SMART Centre Group) Accelerating Self-supply with the SMART Centre approach by Anemarieke Maltha (SHIPO SMART Centre Tanzania) Media Self-supply: Entrepreneurs for Water and Water for Entrepreneurs - video by Rik Haanen (www.smartcentrezambia.com) Posters Six ideas to reach SDG 6 (poster by Henk Holtslag for RWSN) by Henk Holtslag (www.smartcentregroup.com) Photos of 12 SMARTechs by Henk Holtslag (www.smartcentregroup.com)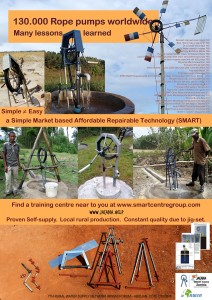 (poster by Rik Haanen (www.smartcentrezambia.com) for RWSN) RWSN R Veldman Filters Malawi_final (poster by Reinier Veldman (www.smartcentremalawi.com) for RWSN) RWSN A Maltha Poster Self-supply (poster by Annemarieke Maltha for RWSN)
Demonstration of a new water filter produced in Malawi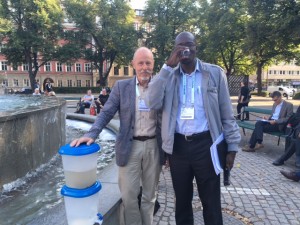 Demonstrating a table top filter produced in Malawi at the World Water Week in Stockholm. This filter purifies water, eliminating all bacteria, parasites and turbidity. The filter element is treated with silver, avoiding re-contamination of the purified water in the storage container. The filter capacity is 40 litres per day and has a retail price of around 20 USD. The SMART Centre Group is working with the local SMART Centres and partners to set-up local supply chains for this product. More information can be obtained from info@smartcentregroup.com.
SMART Centres at the Stockholm Water Week
One of the topics discussed this week at the Stockholm Water Week is about reaching SDG 6. How do we reach the Target of water and sanitation for all in 2030?
Henk Holtslag, representing the SMART Centre group presented the SMART Centre approach as one option to reach these goals.
read more
Interested to support or join?
Home