One full year has passed since we have heard from Bachir Afonso, our dear friend and companion, who was the practical manager of "Grupo de Saneamento de Bilibiza" in Cabo Delgado province in northern Mozambique. The 29th of January 2020, Bilibiza was attacked by resurgents from the north, burning half of the total of houses in Bilibiza. Most people of Bilibiza had fled to the woods by then. Late afternoon they came to the workshop of GSB, where Bachir still was present.
At 19.19 PM Henk Holtslag of the SMART Centre Group received an app-message in the Netherlands from Bachir Afonso saying:
"Cry for help. Armed men have entered Bilibiza and are burning from 5 PM till now. All schools were burnt. We no longer have a SMART centre. They are destroying Bilibiza!!"
This was the last we ever heard from him. So we fear for his life and probably also that from his wife. We have still some hope that he is still alive.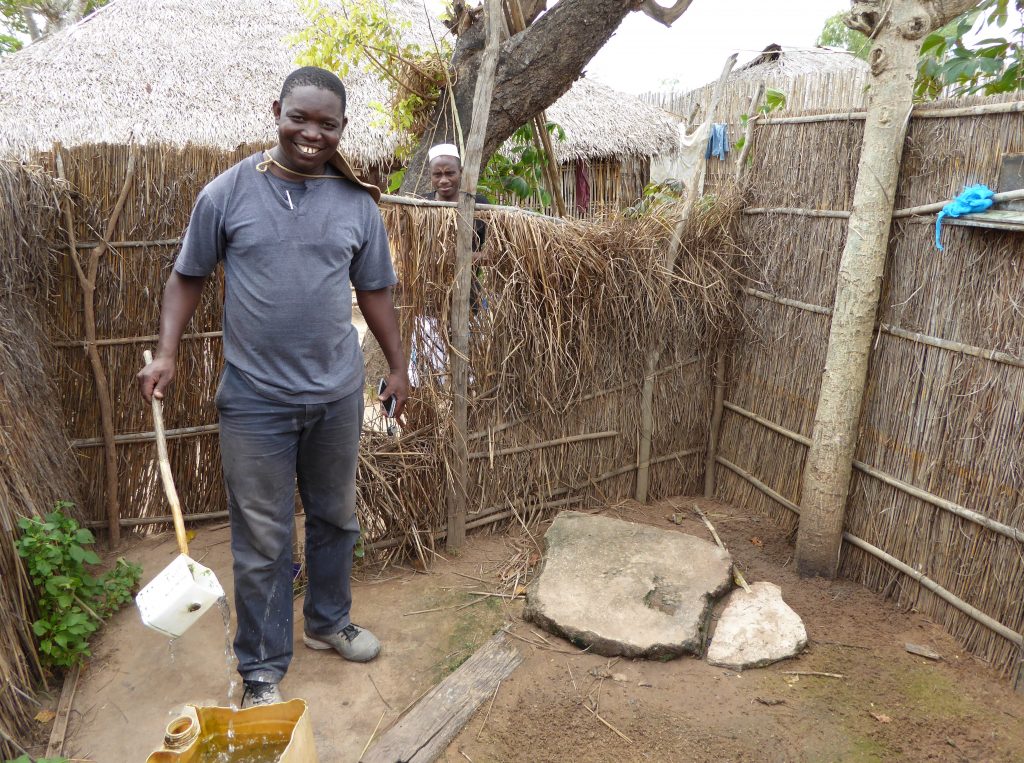 It would be a great loss if he has gone. He is a great guy, vivid and joyful. Always the well being of his community in his mind. He told me, Jan de Jongh, that each day he is thinking : "How can I help my community members?". He had the ability to put his ideas into practice. Around 2005 when I first met him, he had just started to train a group of women and men, in a backyard of a house to produce concrete latrine slabs.
He put much effort in convincing the population of Bilibiza, a few thousand, to make pit latrines , with such a slab and possibly with water for cleaning hands. As a result, last year about half of the village had such a latrine.
He was also a practising muslim, and thus member of the large muslim community in Bilibiza, who have to wash hands before saying prayers.
He was eager to learn, and what he learned, he immediately put into practice. He also had the ability to connect with people from all levels; peasants, local authorities and even the president, who visited once the project on bio-fuel we were running with him as a project leader on growing jatropha and producing bio-fuel from it.
He managed to build up a team that was able to deliver SMART technologies in water supply, mainly trained by Henk Holtslag over the years starting in 2006 until 2019. With aid from several donors, like Aqua4all, Marie-Stella-Maris and others we could let them execute various projects in villages surrounding Bilibiza, mostly in the district of Quisanga.
The projects included various elements, in the area of water supply, sanitation, including soap making, food production with farmers clubs, household water treatment, with introduction of household water filters and bio-fuels (supported by a Japanese donor).
In 2010 GSB became officially a member of the SMART Centre group. Bachir guided and stimulated his team with the co-director Mrs. Tcheizi Mutemba, who resides in Maputo, and who maintains the links with international donors as well.
The team is now dispersed, but under guidance of Tcheizi they continue to work with projects , for the time being in safer areas, near Montepuez.
For us Bachir is a champion for Mozambique in local development both in human capacity building as well as in providing basic elements for prosperity in accordance with the SDG's.
We really miss him!
Jan de Jongh
Henk Holtslag
Flemming Nielsen